Events in Our Garden
Spring- January/Feb 2017 April 2016 May 2016
Fall- August 2016 September 2016 October 2016

April 2016

Our Display Garden and Nursery are OPEN EVERY WEEKEND in April and May from 10-5, with specially themed presentations on the following dates:


"Rose Gardening for Dummies"
April 2cd & 3rd Sat./Sunday 10-5
Demonstrations at 10 am and 2 pm. FREE.

Everyone can enjoy rose gardening!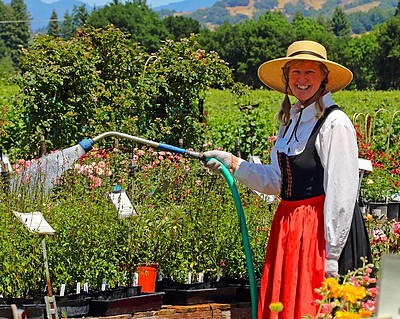 Learn how to prepare your garden to bring forth its most beautiful bloom. Jan "The Rose Lady" will offer tips on water-wise planting, fertilizing, mulching & grooming your roses for the whole year. Watch as we actually plant a Rose! Take home informational handouts and irresistibly beautiful roses, irises and perennials from our brimming nursery. Nursery and Garden Open 10-5.


"Glorious Irises of Spring - The Garden Awakens!"
April 9 & 10 Sat/Sunday 10-5
Special Demostrations at 10 am and 2 pm.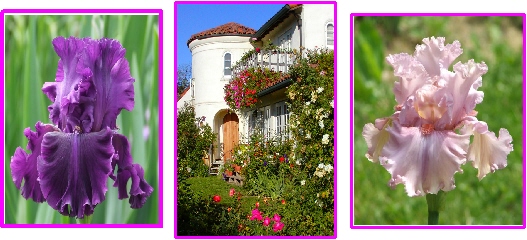 Just when we need a bit of color in the garden, the irises begin their glorious spring show! Enjoy 120 varieties of these gorgeous beauties in full splendor, many of them world-class award winners, planted throughout the 650 roses in our garden. Drought tolerant and easy to grow, Jan calls them "Orchids You Can Walk On". Our early blooming roses will also be making their annual come-back appearance. Ah, the glory begins! Hundreds of irises & roses for sale in nursery. Nursery & Garden Open 10-5


Fragrance Frolic - "Rose Petal Toss"
Blessing of the Rose Harvest with Gradina Slavic Singers
April 16 & 17 Garden & Nursery open 10-5 with special activities both days.
Special folk singing and music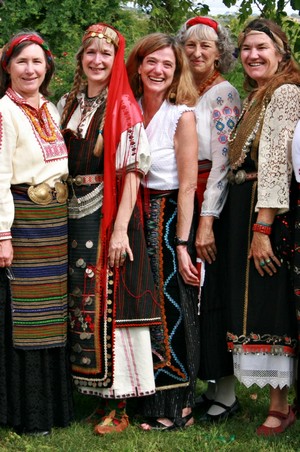 at 12 pm & 2 pm on Sat, April 16th ONLY. $2 donation appreciated.

Bring on the Perfume Rose Harvest Season! To celebrating the start of 2015 harvest, the wonderful Balkan Singing Group, "Gradina", will be blessing our rose fields. Enjoy the beautiful Slavic sounds as they sing to the roses to ensure a bountiful bloom. Help toss basket-fulls of fragrant roses into the air to celebrate this joyous beginning.
Embrace the sights and scents of Antique roses and fragrant irises among our collection of 650 roses. Estate grown Rose Water & Perfume available as well as fragrant roses and irises in the nursery. Nursery and Display Garden open 10-5 pm.

(NOTE: Gradina performs April 16th only, Rose Petal Toss and other fragrant frolics featured both days)


"Climbing Roses 'Magnifique' "
April 23 & 24 Sat./Sunday 10-5
Docent led tours at 10 am & 2 pm. FREE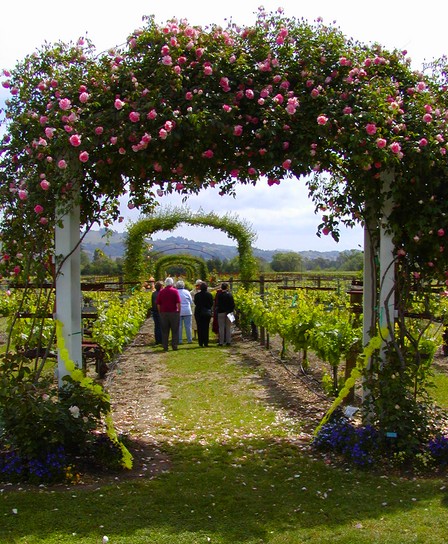 Our homage to Monet's Garden! A Magnificent Tour of more than 75 varieties of climbing roses in Full Bloom. Meander down the Rose Alleé, an avenue of 12' arches holding 30 cascading climbers. What a sight! What a fragrance! We'll offer Tips on selecting, growing, training and pruning these majestic gems.
Also, enjoy our secret garden treasures: "the Purple Playground", the "Humming Bird Wall" the "Hollywood and Vine collections". Relax on the Sweet Scent Seat, a cedar bench surrounded by perfume roses, scented annuals and perennials. An irresistible selection of climbers available in nursery. Nursery & Garden Open 10-5.

May-Pole & Monet- A Spring Celebration!
April 30th & May 1 Sat./Sunday 10-5
MAY-POLE Festivities at 10am & 2pm. $2 Donation Appreciated.

Join us in the garden at the PEAK of Bloom for a true celebration of Springtime. Weave colorful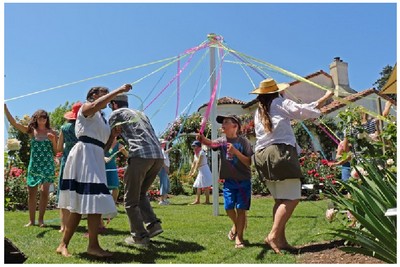 ribbons around a lovely MAY-POLE!! (Costumes encouraged!) Become Monet as you help paint a large group canvas sent into the garden and unleash your inner artist. Our Perfume Rose Fields will be filling the air with their heady scent and providing an enchanting backdrop to this larger than life art creation, perhaps inspiring you to create an art-ful spot in your own garden! View basket-fulls of perfume roses being processed into rose water and rose oil, and sample the sorbet made therefrom. RELAX as you enjoy the sights and scents of the Garden with its 650 varieties of roses in full bloom. Nursery and Garden Open 10-5.;

To join our mailing list, click here (don't worry, no spam or
email sharing!)
Photos courtesy of Mikala Kennan.